Unruly, unmanageable and rough locks – no girl wants those. How do you control frizz and keep your mane soft and in control? With these hacks. Read on, girl.
The first thing that you'll notice about frizzy hair is that it's dry. And that's not just because of the weather. Hair shafts are damaged and that, paradoxically, causes more moisture to go in and swells your hair up.
So, what causes frizzy hair? Bad hair care, strong products, vigorous and rough brushing, excessive product use, too much styling – all these are factors that contribute to damaged hair.
But as with everything, there are ways to prevent frizzy hair. Here we go:
#1 Use sulfate-free shampoos
Shampoos are one of the primary reasons hair dries up. That does not mean you stop using them. Instead, look for those without sulphate but high in glycerine. Glycerine prevents humidity from getting inside the hair strands.
#2 Always deep condition
Whichever shampoo you decide to go with, always, always end with a deep conditioner. This stops humidity from getting into the cuticle.
#3 Alcohol-free … products
Yes, you like to style your hair and it requires products. Do your hair an immense big favour and use alcohol-free styling products.
#4 Use a hairspray and mascara wand for small corrections
Spray a clean mascara wand with hairspray (alcohol-free, remember?), and use that to control flyaway hair and smaller frizz areas, like the end of a ponytail or strands standing tall around your crown.
#5 Turn down the heat
A sure way to control frizzy hair is to use lower heat settings while blow drying your hair or straightening it.
6. Does your flat iron have teeth?
Use a flat iron with teeth for straightening your hair. This can make your hair really, really smooth.
#7 Have you tried plopping?
Curly hair tends to get frizzy as it dries. Try the plopping technique where you roll your wet curls in a t-shirt. The curls dry without being exposed to the environment and you get gorgeous tight curls in the bargain.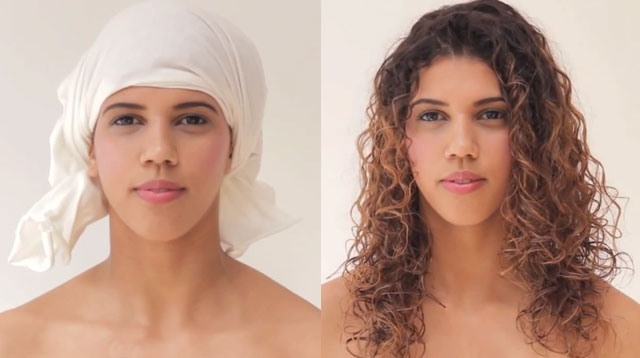 #8 Stop. Touching. Your. Hair.
Even the slightest touch to your hair can break up its natural pattern, leading to frizz.
#9 Brush before a bath
Brushing your hair before a bath lifts oils from the scalp and distributes it to your hair shaft. It also allows deeper cleaning of the scalp.
#10 Hair spa at home
We've kept the best deeply pampering technique for the last. Make time for a hair spa at home for dry frizzy hair. This requires a little time and effort, but the end result is super smooth hair that retains its shine for many days. Hair spa benefits include frizz-free hair, strengthened follicles, glossy and lustrous mane, to list down a few.
– Start by massaging your hair with warm coconut or almond oil.
– Next, steam your hair. Dip a towel in hot water, wring it out and wrap it around your head. Keep it for 5-10 minutes to let the oils really penetrate.
– Wash your hair out with a mild shampoo. Don't use hot water as that damages the roots and causes frizziness.
– Condition your hair. Use a natural conditioner like a blend of grated beetroot juice, tea concoction, and hibiscus flower powder.
– Lastly, apply a mask. Whip together a delicious recipe using 2 egg whites, a ripe banana, honey, and coconut or olive oil. Puree this thoroughly and coat your hair with it. Wash it off with a mild shampoo like Pantene Pro-V Silky Smooth Shampoo after 20 minutes for soft, silky hair.
Try these hair care tips for frizzy hair and you can wave unruly hair goodbye.