Whenever out shopping for beauty products, I realize not all products from international brands are tailored for Indian women. That was until I got to know about Attitude, the beauty product range from Amway. I learnt that the range has been customized for Indian skin types and preferences. As we know, Amway has been serving Indian households with a wide range of products for more than two decades.
Recently had a chance to attend the event for the launch of Attitude TVCs at the company headquarters. The range comes out of the company's manufacturing facility in Tamil Nadu. So it's truly made in India and made for India!
The Attitude range extends the Amway portfolio to beauty. Amway already has a well-established presence in nutrition, beauty, personal care and consumer durables segment. After learning more about the Attitude range, got to know how the country's largest direct selling company is creating a splash with impactful messaging.
For example, I loved this one commercial that takes a gentle swipe at the auntyji who always has some advice for us. The TVCs depict relatable situations women might find themselves in. Sometimes the desires of women to be who they want to be get in conflict with social norms. Their everyday expressions become acts of rebellion.
The right attitude is what keeps them moving going and helps them become limitless. The Attitude range is about being bold and smashing stereotypes. And it all starts with looking the way you want.
Attitude has a wide portfolio, ranging from skincare to beauty products for eyes, nails and lips. The skin care range has products for cleansing, acne clearance, UV defense to solve your daily skin issues while the beauty products come with patented technologies.
At the event, all bloggers got a hands-on experience with the products and I just fell in love with them! From pretty pastel packaging to the minikits developed to make them travel-friendly for customers, Amway has surely upped its game by customizing its products as per the needs of its consumers.
Nail lacquers, matte and glossy lip shades, compacts and blushers have been launched as part of the Artistry Collection. The lip colors are long lasting and made to keep your lips hydrated, the eye shadows and blush kits are well-pigmented and blends supremely well. You can easily pull off the shades from going to office to a party without switching your palettes. The pricing is just right to fit the budget of college goers and new professionals.
At the event, the activities were also in line with the essence of attitude. One of the activities was a platform for some bloggers to share their thoughts on words such as attitude, beauty, trend, among others. We also had a chance to share our journeys in the blogging industry. The candid communication with Attitude really helped create a heart to heart connection with the brand.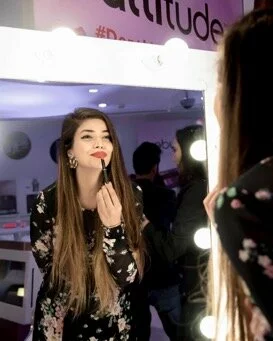 I also learnt that Amway has designated physical stores where you can try and shop your favorites. The products are available online as well. You can check out the Attitude range here.
Hence, I would recommend you to check out the collection and get ready to fall in love with the brand. You can also visit their website and shop your heart out.