While we are wishing adios to winter it is time to lace up your shoes and get your fashion keys to unlock the right doors.However,some of us try to be hippie and follow and create our own street style but there is no harm in knowing what is hot in the coming season.
As on Hapers Bazaar 2016 trend is to be:
'A step away from minimalism means runways with high impact trends. From the modernization of retro silhouettes, to Spanish ruffles and pajamas as daywear are the key trends to be followed in the coming season.
Here are a few trends which define this season's fashion :
VINTAGE BLOW :
Going backward is the new Fashion-Forward. Aren't we seeing from last few season's that most of the trends are taking inspiration or fully moving to backward styles and trends.
After the minimalism the fashion brands decided to go into a whole other direction: the vintage style.This means we will be seeing more of embroidery,embellishments,pussy-neck bows,lamé, layers and retro shapes with sharply modern updates.
Image Source – www.beyondretro.com
Image Source – HARPERS BAZAAR
2. THE SLIP DRESS
While some claimed minimalism is dead,with this slip dress '90s staple is having a comeback. Pimped up with lace insertions and flaunting extreme feminity,this silky dress is here to make you look attractive than ever before.Layer it with a trendy leather jacket or a bomber top,if you find it too "girly" to be worn.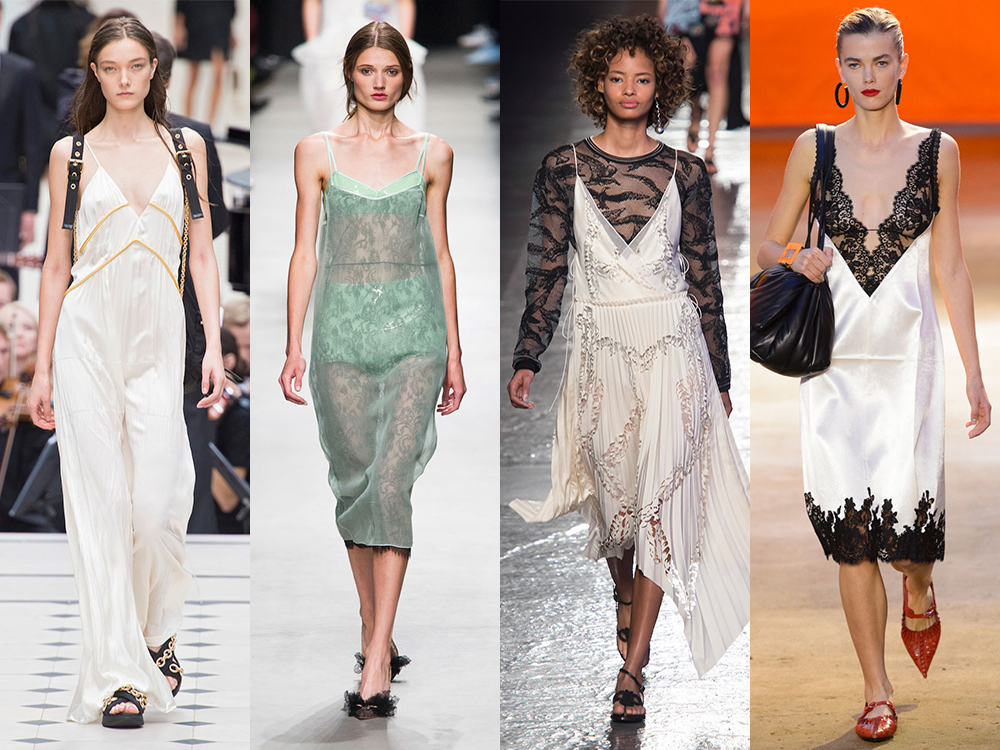 Image Source : marieclaire.co.uk
Image Source : HARPERS BAZAAR
3. PAJAMAS PARTY
It is time bring out your floral satins or star-spangled silks and wear them on the streets with pride.This season pajama sets are going to break the bedroom boundaries and will be worn as #ootd.
Image Source : EDITED.COM
4.BOLD STRIPES
The stripe story for spring is all about coloring between the lines, indeed. Bold, layered shades lend even more interest to this graphic tale.
-says HARPERS BAZAAR
To accentuate the look these bold have come in more than multiple ways. Though,one need to be careful with the vertical stripes on slim fit clothes they make you look like you ate a bit too much during the holidays.
Image Source : Dolce and Gabbana Striped Bags,HOLY-CHIC.NET
Image Source – Dress by Dior,HARPERS BAZAAR
Image source :Dress by GUCCI,HARPERS BAZAAR
5. SHOW OFF YOUR SHOULDERS
Off-the-shoulder were huge last year, this time it's not gonna be different.In different cuts and fabrics,one side shoulder or bare shoulders are hit in this season as well.
Image Source : upfashion.co
6. IN SEQUINS
Bling is in! Happy much.Not only sequin are going to stick to your party outfits instead they are here for the day as well.Shine bright and not only in gold.Instead,it is season of multi colored palette.
Image Source : PINTEREST & KOOVS
7. BOMBER GANG!
From Kendall and Kylie Jenner to Gigi Hadid,most of the celebs have already fallen for these. With the super stylish and chic look they have added masculine vibes;making them a must have in your wardrobe.
Image Source : alohaeverybody.com
8. ROMANTICISM
Romance is still hovering and here to stay.Feathers, ruffles, pastels, cream, chiffon and sheer details add up to the sort of earnestly pretty frocks that make even the most cynical fashion girl swoon.
Image Source : HARPERS BAZAAR
9. FLORAL BLOOM
If we say floral prints are the key trend in Spring/Summer is kind of like to predict coats will be a big hit next winter.It's pretty much a given.
As per Harpers Bazaar :
The floral story for spring rings in somewhere between demure, ultra-feminine and even ironic. Think ladylike frocks with English garden patterns and Victorian ruffles, sheer black florals and edgy grunge prints.
Image Source : Harpers Bazaar
That is all from my side. So,get ready for your Spring/Summer collection and post your #ootd in nailing the trend.
Stay Chic!
Love,