Styling for fashion weeks can really be a nightmare for many of us. The pressure of looking the best, being spotted by Amazon (aifwaw17) or The FDCI, and to stand out amongst the rest can really be taxing. However, I stick to not trying very hard and sticking to the core trends, many of them amongst the lot would be wearing outfits which they proudly call amalgamation of Indian and western. No offense meant but from last many seasons, I had been waiting for some fresh fashion and loud trends to be noticed by the bloggers or fashionistas who visit the most coveted fashion field.
Not being a critic or a fashion police but personally, I feel we have a long to go where we can match up to what NYFW, MFW, PFW offers in terms of street style during the fashion week. We badly need to move on over the taste we provide the audience on the namesake of fashion.
There is still a huge need to gain knowledge of fashion and coding the trends of the season, in India. It might be amusing but you will find some 'EXPERIENCED' influencers having the least idea about fashion/trends. Here I am not at all saying that I am "MISSY KNOW IT ALL" but being a Postgraduate in Fashion Management, gave me some insight into Moodboards, Trends, Pantone Shades, WGSN and blah blah, which came from an alien dictionary to a few I met(bloggers). Anyways, the scenario needs a massive change is all I can say. As influencers carry a huge responsibility of making the mass aware of latest trends and ONLY promoting the brands makes no sense, IF AND ONLY IF you call yourself as A FASHION LEADER.
Ha! Taking the lookbook section ahead, I had created four looks for four days. As my visit was uncertain because of my trip to Manali (INSTAFAM knows) and the planned dates were clashing the dates of fashion week. But due to urgent business calls in Delhi, got us back to our home city just a day before AIFW. Hence, I really had no outfits preplanned. Whatever I have chosen to wear were instantly picked up or restyled from my closet. So, no new clothes this fashion week which actually worked in favor of me.
Day 1: POWER OF STRIPES
From Fendi to Carolina Herrera, stripes were one trend which got huge attention. This season calls for bolder and maximum stripes in your outfit possible as the runway boasts of MAXIMALISM FASHION for this season. Banker, mid stripes, resorts stripes are all in. This was the reason to pick my first outfit. I picked up the look of STRIPES ON STRIPES and paired it with solid white sneakers. It got appreciated by none other than ANISHA OBEROI, FASHION EDITOR AMAZON. Needless to say that my day was made! Have a look: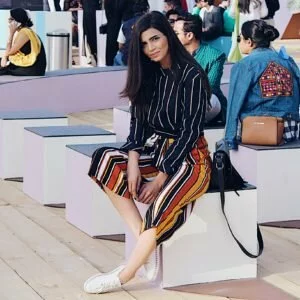 DAY2: WHITE SHIRT DRESS
The top trend for 2017 spring summer includes a WHITE SHIRT. In case you have missed buying that, go get it NOW! Be it a white classic shirt dress or a one with statement sleeves or hems, choose any but you got to have one this season. Keeping that in mind, I had picked up a shirt dress from my closet which was never worn before. I wore it along with a corset belt and shorts underneath as it a little short for me. Faux front fringes and glitter eye with statement shoes added more grace to it and completed the look for me.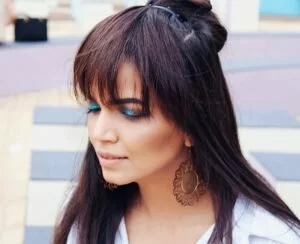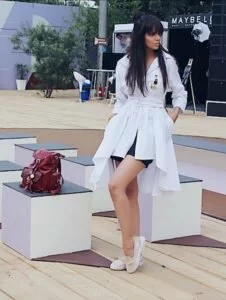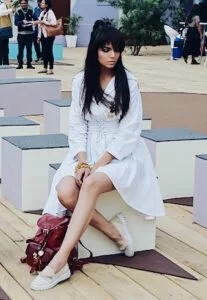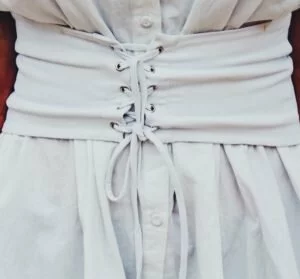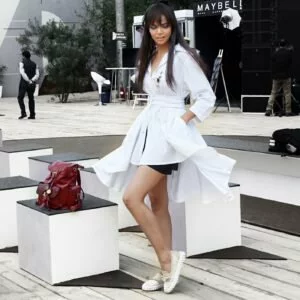 Day3: FISHNET OBSESSION WITH SLOGAN TEE – PUNK TREND
OMG! This outfit got all possible attention I could have ever asked for. I was featured on Miss Malini, 1ST PAGE OF HT CITY next to celebrities like SHILPA SHETTY, ALIA BHATT AND ANUSHKA SHARMA ( yes! I am flaunting it because this moment was huge for me) and couldn't have imagined more and better than this. Coming back to my outfit, it was inspired from DIOR'S most talked about slogan tee " WE ALL SHOULD BE FEMINISTS" and was worn over super ripped denim and fishnet stockings. The whole look was kept monochrome and a little punkish as this is the time to go a little dramatic with your fashion style. I loved this look and I am glad you guys loved it as much as I did.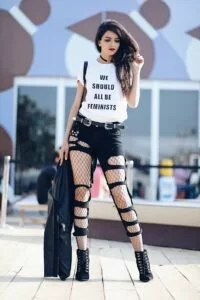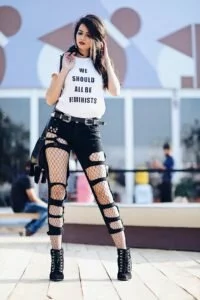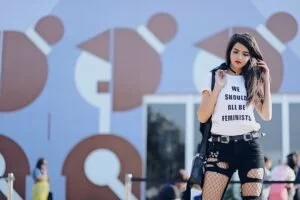 DAY4: NEON SPLASH AND BRALETS ON!
It's time to put on your underwears outside. TEEHEE. Yes! Literally. This season wants you to wear your bras or bralets outside and flaunt your pretty lingerie. Bralets tops were a rage on the runway and internationally influencers have gracefully don them and flaunting them almost every day. I wore a super printed dress with neon sequins on them. Neon is back guys and I did not wish to wear the whole neon outfit so a dash of it was enough for me. Paired my skirt with sequin bralet, half eyeliner and a scarf tied around my neck with a straight sleek hairstyle. This was the last outfit and I was over with Fashion Week Biz. AIFWAW17 had been a great show being put up by some amazing designers and I can not wait what AIFWSS18 has planned for us.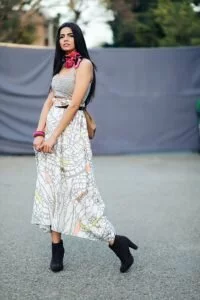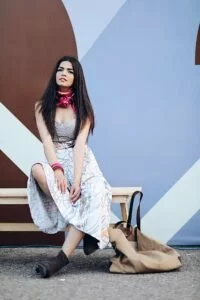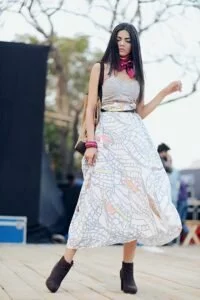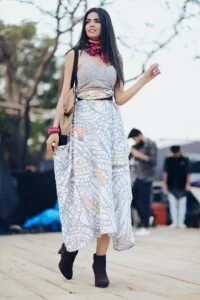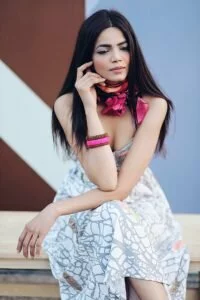 Hope you liked all my outfits. My style is effortless, so sorry if you were looking for something outrageous and dramatic. I keep it simple, classy, trendy and wearable. If you could relate to me, stay connected on my Instagram: INDIANCHIC.IN or maybe add me on Snapchat to see my daily feeds.
Until Next Post,
x