AMILA FINISHING LOUNGE FOR WOMEN
21st Century women don't want to look regular anymore. They want to look good, wear good and feel good. Working over selves to beat the endless competition we face at the society level, in our work environments, or may be just to boost our own self-confidence.
How much your dressing, grooming, the presentation can have an impact on first impressions can never be looked upon. Studies say that almost 70% of the perception about you in interviews is already formed as you walk into the room, without even you uttering a single word. Rest 30% is your communication skills. So, here you see how important great body language is?
Recently while browsing, I found out about a website which offers certain courses for women. These management courses are to make them feel confident about themselves and also to stand out in the crowd. The website is- AMILA LOUNGE( VISIT HERE), active in Delhi-NCR with the purpose of empowering womanhood in India by polishing their power and manage their lives in the easiest way possible. With glorious 10+ years of experience, Amila is a Luxury Finishing Lounge providing direct training for various dominant areas of a woman's everyday life.
---
The name AMILA is of the Arabic origin – that means "Diligent". We at Amila believe all women are born diligent and are designed to multitask – So to further make their lives hassle-free and in control Amila introduces Life Management Programs for the first time ever! A finishing Lounge that promises to Manoeuvre You Inside-Out with our Direct Training Programs by Industry experts. Amila is the most rewarding investment that you can ever make in your life. Everything else can be sold, trashed or consumed –Your mind and body is uniquely yours!
"Love yourself enough to change yourself for good"
---
COURSES AMILA OFFERS:
Art of the Table
Classical Education
Women's Health
Self Make-up
Social Graces
Home Decor
Personal Grooming
Life Coach
Home Management
Kitchen Management
Wardrobe Management
Being Elegant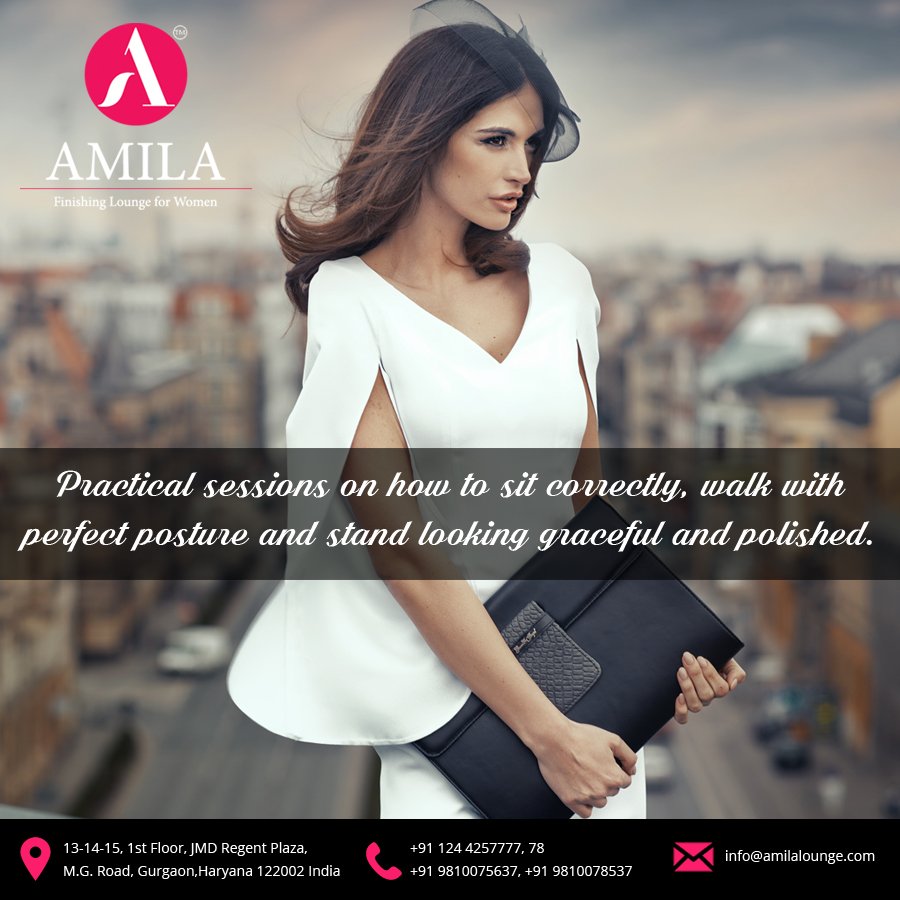 Services :
Amila Lounge strives to provide you the best of uplifting programs with luring packages. One can take an integrated package or can choose any number of topics according to her choice and needs hence getting a customized package for them.
Along with offering twelve different courses from the best mentors at affordable prices, Amila also provides a lifetime support to their clients.
You may opt for a FREE CONSULTATION from their website to get detailed information about the courses you would want to pick up.
Mind you! Finishing schools aren't meant to make you feel that you lack something instead they are a helping hand to bring out the hidden best qualities of yours.
---
CONTACT INFORMATION
13-14-15, 1st Floor, JMD Regent Plaza, M.G. Road,
Gurgaon, Haryana – 122002
Phone : +91 124 4257777, 78
Phone : +91 9810078537
Email : [email protected]
NOTE: THIS POST IS A PIECE OF INFORMATION TO HELP ONE FIND OUT THE BEST SERVICES. THE VIEWS ARE AUTHOR'S PERSONAL. THEY MUST BE CHECKED WITH THE INSITUTE PERSONALLY BEFORE ENROLLING OR OPTING FOR THE PROGRAM OR PROGRAMS.