Delhi's first restaurant of Michelin Star fame, Yauatcha is a thoughtfully designed fine dining restaurant with it's worth praising dishes, cocktails and courteous staff.
If you are thinking what exactly Michlelin Star is? Just to give you a brief, it is the ultimate hallmark of fine dining. A mark of distinction awarded by the Michelin travel guides to a restaurant in recognition of the high quality of its cooking, services, and overall experience.
Recently, I got to dine at this authentic Chinese cuisine restaurant, Ambiance Mall, Vasant Kunj, to try out their Christmas & NYE Special Menu. From the first impression till last, I was singing a hymn of praise for the food and service being offered.
As you enter into a dim lit ambiance with light music and complementing architecture, the staff comes immediately to assist you with your seating. Courteously you will be asked about any allergies or any preferences. Then you are offered the menu to have a look at the dishes and preparations available.
Being an exclusive Chinese restaurant, one can relish the true taste of Chinese cuisine here which isn't spicy, nor is it bland, instead of the right mix of everything.
Yauatcha's all-day dining menu offers a large selection of fresh dim sums, tropical cocktails, and modern European desserts. Most of the dishes offered in our set menu were mouth watering and to the best of their taste.
DIMSUMS :
You have the option to choose from STEAMED, FRIED, PAN FRIED AND BAKED dim sums to choose from.
What I recommend to taste:
Truffle Edamame dumpling – Soft as a feather when they take a place in your mouth they melt as butter leaving a yummy edamame taste behind which will make you pick one, two, three and maybe even more, one after another.
Vegetable Chive Dumpling – Garnished with pomegranate and is a green colored dumpling, which has this color because of chive is another dumpling you might not want to miss.
Fried Turnip Cake With Vegetables – This savoury cake made from turnips along with a host of other veggies. Made with Chinese turnip, law bock, which is a type of daikon radish, this dish is gorgeous to look at and might hit your taste buds at the right place.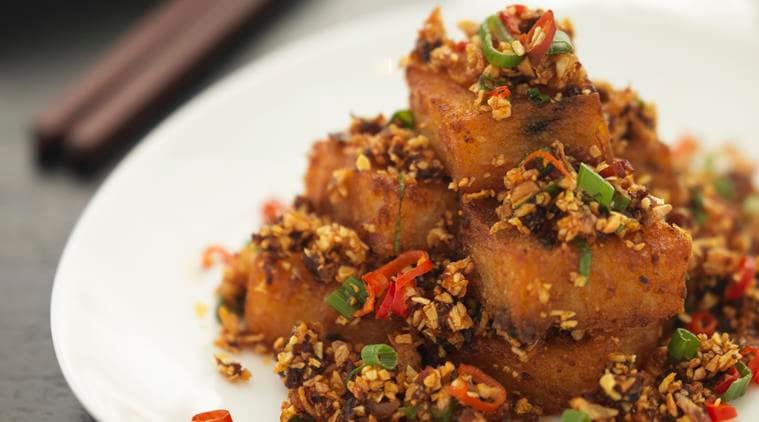 I tasted this dish for the first time here. Don't get carried away by the term 'cake', it is not at all a sweet cake which you might imagine. Instead with right vegetable mixture, it has s little tangy taste but worth a try.
Few Stir Fry dishes you would love to taste:
Stir fry French Beans with Shiitake mushrooms–  Well cooked green beans, ginger, the garlic with the yummy shiitake mushrooms, is surely unavoidable.
Szechuan Mabo Tofu– Authentic Schechuan style Mabo Tofu is one of the branding dishes of Szechuan cuisine. It is spicy, numbing, hot, aromatic and tender.
The tofu is so tender that it literally melts in your mouth.
From the Main Course:
Stir Fry Ho Fan noodles– Ho fun also spelled Shahe fen, is a wide and smooth Chinese noodle made from rice, not only fried but also boiled in a soup for lower calories. If you are a fan of Ho Fan noodles, in that case, this dish is not at all disappointing.
Spicy Vegetable Fried Rice with taro root– A scrumptious dish which I wanted to eat more and more but had to stop my stomach already gave up and had to try some yummy, nummy dessert.
Desserts to die for:
Chocolate Pebble– The Chocolate pebble showcases Alto el sol single origin dark chocolate in four ways: a light mousse, a brownie, a liquid chocolate sauce and a crunchy cocoa nib nougatine.
It lures you as soon as it appears on your table.  Five-star presentation of this ambrosial dessert will take you to heaven in first spoon itself if you are a chocolate lover.
Lux Gateau- This dessert has wine syrup added to it, it's irresistible taste will call for one more dessert on your palate.
Drinks I had tried were Tokyo Cooler as a mocktail and Black river martini as a cocktail. I liked the former one more. For a fact, this year's ruling animal according to Chinese Calender is Rooster and hence, all the drinks served will be red in color.
With more than 15 years of experience in crafting dim sum, Chef Wang Yixuan commemorates the occasion with dishes that showcase Chinese tradition with a modern twist.
The menu designed for both Vegetarian's and Non-Vegetarians, Yauatcha has an exclusively designed menu which offers a variety of approx. 15 dishes to choose from.
I had tried many authentic Chinese restaurants before and not being a true Chinese cuisine lover, this restaurant is truly on my recommendation list now. Also, you must not leave without having Jasmine Green Tea from this tea house. It doesn't only smell exotic but tastes heavenly.
This exclusive menu set at Rs.1500 per guest if two or more guests are on one table, is a great offer running at Yauatcha, till 15th Feb'2017.
Not to be missed, this fine dining restaurant is a must visit.
LOCATION– YAUATCHA, LEVEL 2, AMBIANCE MALL, VASANT KUNJ
CHARGES– INR 1500, for two or more guests in a set menu till 15th Feb'2017
Bob Appetit!
xoxo