Ayurveda is an unequivocally holistic tradition that reaches far beyond the realms of physical health, healing, and the prevention of disease. It has a remarkable capacity to help each of us sync up with our truest inner nature, honor and develop our strengths, hone in on our challenge areas, redirect detrimental tendencies, and offer real support wherever it is needed—so that we can better maintain balance in the face of adversity. At its root, Ayurveda is a way of life that can help each of us to claim and celebrate our capacity for a fully embodied sense of wellness.
Though there are hundreds of facts and few myths related to Ayurveda, in 21st century, we all could see a new wave of incredible inclination towards it. However, many of us are still unknown to the wellness, relief and long-term health it can offer.
Recently, me along with my fellow bloggers were invited one such pioneer in Ayurveda not only in India but reaching millions internationally through their largest network of Ayurvedic Telemedicine facility. Being the first to foray into Ayurvedic telemedicine in India, JIVA AYURVEDA, is a well-known brand amongst people who believe in Ayurveda and herbal solutions to health. If some of you might not be aware of it, ask your mothers, I am sure they must be.
As soon as I was back home from an enlightening season with Jiva Ayurveda, my mother found few Ayurvedic Products in my goodie bag and first question in sheer amazement she asked was, "Ah! finally you started using JIVA?" and I was like,"Yes, Mother" with a tease in my tone.
In my visit to JIVA Ayurveda's headquarter and telemedicine office, I can say with immense pleasure that I got to learn so much which I feel was worth of spending every minute in theirheadquarter. To get an idea of their belief system in Ayurveda, you will find their workspace to meeting rooms, everything is designed to give you the Authentic Ayurveda feel and the brand just don't preach, they religiously follow.
Bamboo stick, mud, jute, were few of the materials used in the clinic and office area to maintain the positive vibes and aura of the workplace. JIVA Ayurveda is spreading rigorously across the nation and internationally with their Telemedicine Centre, Clinics , Online consultation and E-c0mmerce, and have been making genuine efforts to reach even the remotest corners of our country.
The Jiva Medical & Research Centre, a one of its kind concept in the world, was established in 1998 as an integrated center for telephonic health consultation. Today, Jiva has over 400 Ayurvedic doctors and support professionals who have provided consultations to more than one million patients to date across 1800 cities and towns in India. To ensure quality, efficacy and purity, Jiva Ayurveda manufactures its own medicines and products at its ISO 9001:2015, HACCP & WHO-GMP certified manufacturing unit and pharmacy in Faridabad, India.
Launched by Dr. Partap Chauhan, Director at Jiva, is an award-winning Ayurveda doctor, author, speaker, and television personality. Dr. Chauhan has conducted numerous workshops and training programs worldwide. It was a fortunate experience to learn about Ayurveda from the horse's mouth. His vivid and wide knowledge in Ayurveda has made JIVA AYURVEDA a household name now.
To just give you a brief of few things JIVA AYURVEDA believes in are that Ayurveda is meant to treat everyone uniquely as every individual is unique and so are their problems. They have a modern approach implied into Ayurveda which means they have taken the 5000 years old traditional science and reinforced it with scientific researches new findings, Ayurvedic cures and treatments basically keeping the authenticity intact with involvement of modern developments.
JIVA AYURVEDA's few noteworthy programs are:
AYUNIQUE – YOU ARE UNIQUE SO SHOULD BE YOUR TREATMENT.
VPK TEST – Every human being has three doshas(Vata, Pita & Kapha) in unique proportions, this is Known as Prakriti. Prakriti Analysis has an important role in diagnosis of the patient in Ayurveda.
JIVA VEDIC PSYCHOLOGY – Jiva Vedic Psychology is a new way of studying the mind and analyzing mental diseases, which blends eastern yogic theories with modern psychotherapy techniques.
ONLINE, TELEPHONIC, CLINIC CONSULTATIONS
JIVA AYURVEDA also has a wide range of Ayurvedic skin care and health products, which is specially curated with the best of herbs and other key ingredients to keep the health, mind and body well-maintained.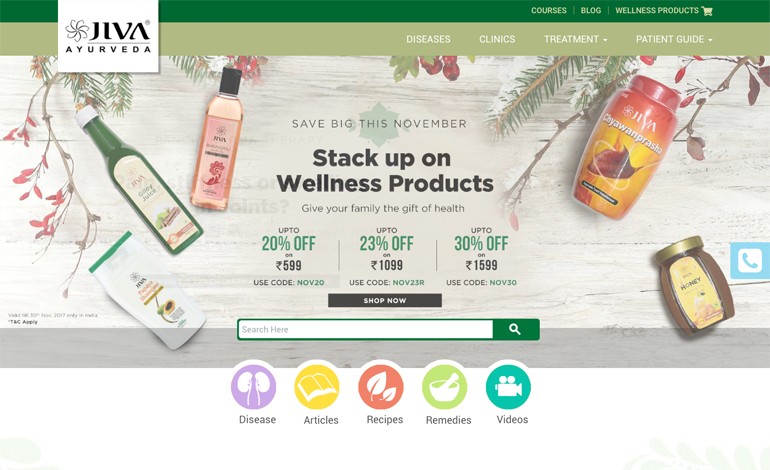 You can get to know more about these treatments, courses, facilities, and clinics: https://www.jiva.com
To Shop JIVA AYURVEDA: https://store.jiva.com
Hope this helps, do get back to me if you would want to know about my experience at JIVA AYURVEDA.