Hello Autumn,let's get going for some shopping.Before that let's see what's in trend.
The autumn 2015 fashion season is up on us.With the spring saying bye,time is here to see what fall season has in pockets for us.
I really love this season and find it most chic and fashionable time of the year but same might not be with hot pant lovers.

Snow,Coats,Plaids,Boots,Shorter Days & Longer Nights,Oh! You Winter.
Anyways coming back to trend alert for AW'15,it is welcomed with the come back of capes,fluffy fur,tons of Victoriana lace and staying of culottes,70's style and more to get our heads around, there are plenty of hot new trends to start getting excited about now.
Have a look here to find out 'WHAT'S IN' to wear this season –
1. Cape Calling
Yes! capes were back on the catwalk in a big way this season.From taking over last year trend this season also cape's have come to make u feel cosy in fashion.If you can pull them off, capes are great statement alternatives to coats when the weather is mild enough to enjoy them.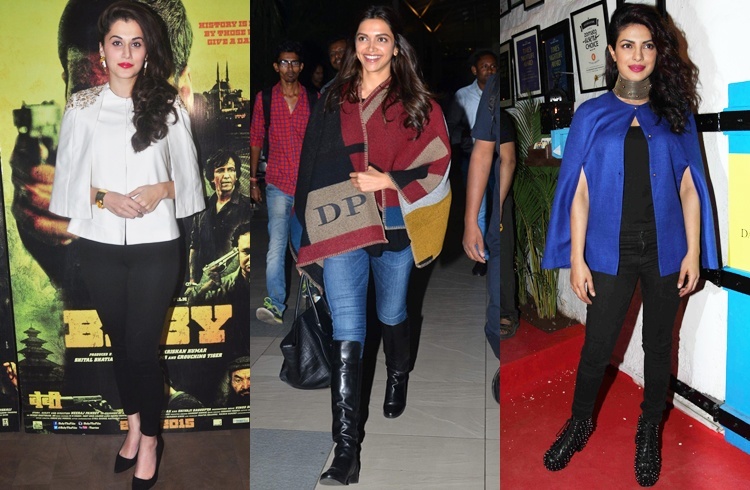 2. Fur here,Fur there
From real fur by few designer to alternative fur by designers like Stella McCartney and Ralph Lauren,the monster furs this winter were chopped and screwed for fall.
The look of fur is maintained minimal that is to style it only on collars,hemlines or cuffs rather than wearing full fur coat.
3. Let's Plaid !
Plaid is almost must for autumn fashion and it is in for this season as well,particularly red plaid.Distorted and stretched across fluffy knits,quilted into 3D forms,or doused in sweet 'n sour colour combos,plaids this season are a sigh of breath into all the dark shades of winters.
5. Bold Waist
Oh yes! Once again it's time to play up with the big bold waist belts. This time catwalks focused on using the waist belts to accentuate hourglass shapes, create a color contrast or just to foreground the outfits.
You can use them over your skirts,coats or jumpsuits to give you a faux hourglass figure if you are not blessed with one.( Just gave you a forever cheat for an hourglass figure,LOL)
 6. Boho's Comeback !
With Poncho's being one of the favorites of this winter,the style of 70's have again hopped into this year trend.
MORE FOLKSY,MORE FRINGES and TEXTURE OVERLOADED.
70's sty entered in summers,so if you have invested in any 70s or hippie pieces trending this summer keep hold of them as this trend isn't going anywhere. Burberry, Etro and Lanvin all showed distinctly bohemian looks of ponchos, fringing and suede.
7. Eighties Revival
This Autumn-Winter collection is comeback of many lost trends.Saying that,for some it may be a time in fashion we wish to forget, however love or hate it the 80's trend is back! Whether it was shiny ruffles at Balmain or skirts at Saint Laurent,it seemed 80's trend is gonna make us all rock this trend.
 8. Oh Pleats !
Classic,trendy and tried-and-true trend. But this season pleats have been shown in variegated forms.Be it fan to box or carwash and knife, the pleat look packed quite a punch on runways.
Though out of all these pleats Carwash Pleats are called to be the new wave trend which is going to rule pleats style of this season.
9. Shades of Grey
Laters Baby !
No.Nowhere this trend is inspired by Mr.Gray.Instead it is use of monochromatic use of grey color.Grey Chic = Perfect winter styling. If you are not planning to get much into color blocking style or folky then this is for you.
Instead if not monochrome,then grey is the color which goes with almost all the dark and light shades.So bring it on!
10. Red Alert !
From Dior to Marni, Fendi to Ferragamo, every designer was working the hue in head-to-toe forms, cutting some of the boldest figures of the season.
You name it scarlet, traffic light, crimson or ketchup – whatever you want to call it, there's no denying AW15's stand-out colour trend. 
11. Overdose of Bling
Not yet tired of summer bling? Then a good news keep it out and wear it more.Bling is back in a big way for AW15.
Twigs-style nose rings,chandelier earrings and statement necklaces like seen on Lanvin, Miu Miu and Balenciaga shows are high on fashionistas most desired look.
These were only few of the trending Aw'15 styling like thin scarves,thigh boots,fur shoes,pussy bows and many more.If you wish to know them,then click on the link which I found best to follow.
Click Here
Finally,research is done and 'am all decked up to stock my wardrobe with best of AW outfits.Are you?
Be Dressey and Keep Smiling.
Hugs and Kisses