Yes,this is the motto of this unique and exclusive 100% recycled and handcrafted sunglasses brand.
'LET'S BREAK THE MONOTONY'
It was at the 'INDIA FASHION INTERFACE 2016',India's first blogger convocation plus a luxury fashion POP-UP BAZAAR where I came across few of the upcoming brands with their ritzy and distinctive collection. Fashion brand 'ARAGA',dedicated to wooden sunglasses was one of them.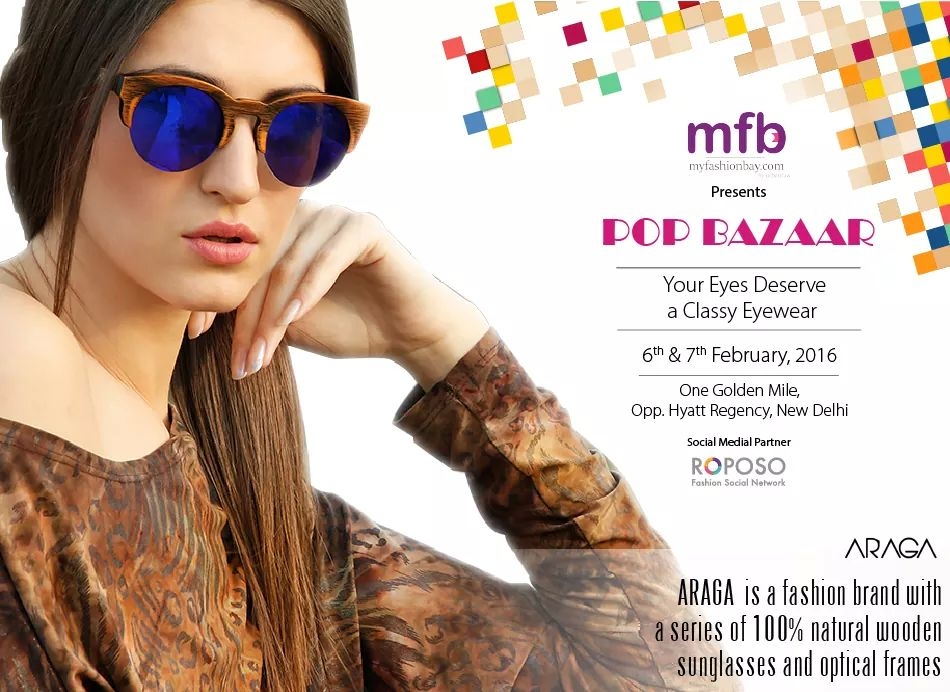 THERE'S NO SUCH THING AS TOO MANY PAIRS OF SUNGLASSES. – SAMANTHA AUGUST
It's not too long that the brand took off and still got many celebrities wearing the timeless pieces introduced by ARAGA.
These are not usual sunglasses that you usually own instead they are 'PIECE OF ART' 100% handcrafted and made up of recycled wood.
ARAGA sunglasses are made up of recycled wood of Bamboo,Mapple,Wenge,Rosewood,Jackfruit and Ebony. Don't miss their PREMIUM COLLECTION in which they have sunglasses made up of 'BULLHORN'.
Their sunglasses are peculiarly notable for their outstanding design,textures,waterproof,lightweight yet sturdy frames and spring hinges.
Collection is classified into:
WOODEN COLLECTION –

Wooden Series,Bamboo Series & Skateboard
PREMIUM COLLECTION –

Horn Series & Premium Wood
It is reasonably priced and has variety to choose from.The best part is they are unisex sunglasses.If you got my point then this could be a perfect gift to your partner which you both can use. 'SAVINGS TIME'
Below are four of my favorite pieces from the online store :
Usher – Blue Maple/Grey Walnut Wooden Optical Frames

– Rs.3999

This piece is from RX COLLECTION.This modern era piece caught my immediate attention because of the color and texture on the frame. This can be your click to break the monotony of your office wear. If you can imagine,a pair of striped trousers and a faded blue shirt and wear these chic blue glasses to complete your attire and glam up your monotonous outfit.
Vams

– Half Frame Bamboo Wooden Sunglasses

– Rs.3,499

As you can identify from the shape,it is inspired by the 50's days. This is a clear fashion statement and trendy shades. Wear a vintage floral dress to match these with your outfit.
Kairos

– Horn Sunglasses

– Rs.5,999

As the name so is the look,fierce and wild. These rarely seen sunglasses are a must have if you are fashion conscious and want to add a pair which is worth a show off. Wear it on a monochrome outfit or on a military color dress. This pair of AGARA will not disappoint you.

The brand claims that these are made from the best quality bull horns in India.
Usher – Wenge Wooden Sunglasses

– Rs.6,000

I love colored sunglasses. You might find it funny but I have a soft corner for sunglasses with some color or tint.

Mentioned in the description is, "These wooden sunglasses are unique and one of a kind sunglass that are rare to find ant the lenses used in it gives a rainbow effect.These are crafted from the Wenge wood with arms dipped in brown wood."

I totally adore these shades and I am sure you too.

Still waiting? Hop onto the webpage and start scrolling through there online store to find the best pair for yourself.

SHOPAGARA.COM

Love,